Place/Date: – December 12th, 2022 at 4:14 pm UTC · 4 min read
Source: Dogeliens
One or all of Dogeliens (DOGET), Aave (AAVE), and Celo (CELO) could yield tangible profit in months to come. Market analysts believe these crypto assets have huge prospects, and they've shown signs of an excellent rally in recent times. However, the coin market's highly volatile nature still makes them a risky purchase. Thus, personal research and risk management are important before considering these projects.
Dogeliens (DOGET) is the most risk-worthy among these altcoins. It is a new crypto asset with low risk and a high possibility of yielding great returns. Its low presale price is an opportunity every crypto investor should cease. Some analysts have described Dogeliens (DOGET) as compensation for missing Shiba Inu at its early stage.
Dogeliens (DOGET)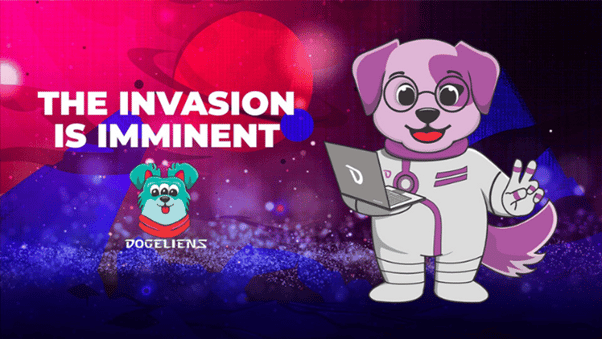 Dogeliens (DOGET) is a new meme coin that will power users' virtual experience on Puptopia — Dogeliens' metaverse space. The crypto asset will facilitate the minting of non-fungible tokens (NFTs), which users can utilize to participate in Dogeliens play-to-earn games. The rewarding game will bring users a fun and facilitate interaction amongst users as they play and trade with each other.
The Dogeliens NFTs are of value, and they can be traded in the marketplace alongside other in-game items. Dogeliens aim is to bring optimum benefits to users without compromising fun. The project will see users enjoy financial benefits and also educational benefits that can improve individuals' growth as well as the development of the crypto space. Dogeliens will provide users with educational resources about various sectors in the crypto space, thereby facilitating its adoption.
Some educational content will require payment with the DOGET token, while most are free. DOGET will power every activity in the Dogeliens ecosystem, including governance and transaction payments. Dogeliens will run a democratized voting system that will guide major decision-making processes in the ecosystem. DOGET holders can vote and have a say in how the project is run.
Users can earn more DOGET through staking or the numerous incentives and bonuses Dogeliens will offer. The project's charity intervention is another laudable feature that will help it gain more adopters. About 3% of its tax revenue will be a weekly donation to different charities. The charity to receive donations will be determined through voting.
The increased hype and adoption of the meme coin, coupled with its features, make presale purchase a smart decision. It could yield high profits after launching on crypto exchanges in the coming months.
Aave (AAVE)
Aave is an open-source liquidity protocol where users can earn from supplying the platform's liquidity or borrow using different assets as collateral. It is a community-governed protocol and locks liquidity in 7 networks and 13 markets. AAVE is the platform's native currency. The token holders leverage it for discounts, rewards, and governance rights.
The lending protocol boasts one of the largest total value locks (TVL) and gives users different options of cryptocurrencies to borrow or lend in. It allows alternating between fixed and varied interest rates and offers flash loans. These features make Aave one of the most used lending protocols, which increased its token's value in the previous year, especially during the DeFi boom.
The bear market has caused a huge decline for the crypto asset, and analysts believe Aave (AAVE) can't regain its over 89% price decline within a short while. However, it is tipped to make a significant recovery rally beyond its current market price.
Celo (CELO)
Celo pioneered providing individuals access to financial tools for global transactions via mobile phones. It allows easy accessibility to the cryptosphere via smartphone, increasing crypto adoption. The platform uses phone numbers as public keys, making global financial transactions easier without censorship from a financial institution.
CELO is the DeFi platform's native token. It facilitates governance, transaction fee payment, and other activities. The proof-of-stake token reached its all-time low due to the bear market effect, but it's tipped to pump in the coming months. CELO peaked at $10+ all-time high in the last bull market, and a favorable market could see it recover.
Check out the links for more information on Dogeliens: Website, Presale, Telegram.
Subscribe to our telegram channel. Join
#Dogeliens #Aave #Celo #MustHave #Desire #Wealth #Increase